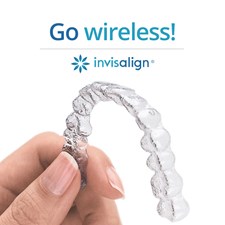 A Beginner's Guide to Invisalign: How Long Does Invisalign Take and How Does it Work?
Invisalign is typically considered a purely cosmetic process, but it has additional benefits outside of perfecting your smile. It's a quicker, more comfortable, discreet alternative to traditional braces and can help improve overall gum and dental health. When your teeth are crowded, you're more susceptible to gum disease and tartar/plaque buildup because it's harder for your toothbrush and floss to reach between teeth.
If that isn't reason enough to consider Invisalign, the aligners and retainers are incredibly convenient and comfortable. Because you can remove them for eating, sticky, tough, or chewy foods aren't off-limits. This flexibility also makes brushing your teeth easier.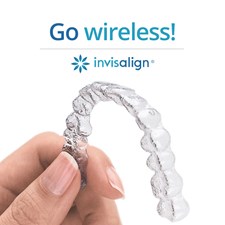 How Does Invisalign Work and How Long is the Process?
The Invisalign process begins with a free consultation. If you decide it's right for you, we'll move onto an Itero Scanner (radiation-free) 3D imaging session in which we scan your teeth and send results to Invisalign. They'll forward an interactive digital model of your teeth, outlining your custom treatment plan — you'll get a sneak peek at your new smile every step of the way.
From there, we'll set you up with aligners and schedule your mid-treatment checkup. Depending on the severity of your case, the process will take between six months and one year.
Your Retainer After Invisalign
Once you complete the aligner process, we'll fit you with Invisalign's Vivera® retainer to help keep your new smile looking perfect. Otherwise, your teeth may shift. These retainers are just as discreet and comfortable as your aligners, but they're more durable and stiff for long-lasting wear.
To set your teeth after movement, it is recommended that you wear your retainer full-time (~22h/day) for three months post-treatment. Then, you can start wearing them ~8h/day (overnight).
How to Clean Your Invisalign Retainer
Over time, your Invisalign retainers can accumulate tartar/plaque buildup and become cloudy. Just like your teeth, it's important to clean them regularly. There are a few ways to do this:
Brush them daily with soft bristle brush and cold/lukewarm water
Use the Invisalign cleaning crystals that come with your retainers (you can order more on Amazon here)
Mix a 50/50 solution of lukewarm water and vinegar and soak retainers for 15 min

Note: do NOT use hot water as it can warp the plastic retainer
Although there are a lot of small steps to completing a custom Invisalign treatment, it's the simplest, safest way to get teeth worth smiling about. And if you have any questions about our Invisalign treatment process or you'd like to set up a free consultation, don't hesitate to contact us. Our Invisalign-certified providers are happy to help.